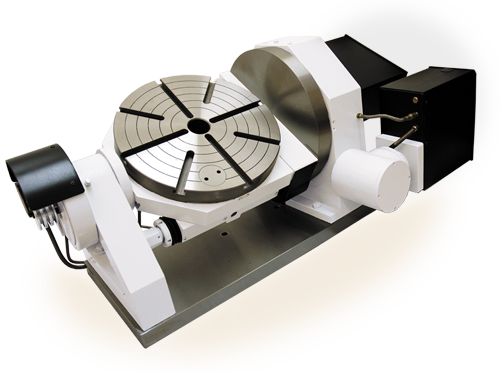 Troyke TDL Series Tilting Rotary Tables range in size from 8" to 25" diameters. The TDL Series is available as a single or dual spindle, (rotary axis) tilting rotary to be used on complex 5 axis machining applications. These heavy-duty tilting rotary tables are interfaced to the machine control as a rotary indexer or full 4th and 5th axis and offer a variety of tooling and work holding options.
Standard TDL Rotary Table Features:
5 sizes of "x": (8", 10", 15", 20", and 25" table diameters).
Rotary and Tilt axis.
Dual lead worm set simplifies backlash adjustment.
C907 bronze worm gears and a hardened and ground worm shaft running in a bath of oil. (80-90 weight gear oil).
High precision spindle bearings.
Turcite bearing surfaces.
Internal pneumatic brake, (Rotary & Tilt).
Precision ground surfaces.
Zero return / home switches, (Both Axis).
+/- overtravel limit switches, (Tilt Axis).
Optional Features:
Chucks - (Manual or Pneumatic).
Collet fixtures - (Manual or Pneumatic).
Single axis programmable control.
Cables - for interfacing to machine tool.
Manual rotary axis and/or manual tilt axis.
Air over hydraulic unit (AHU).
Clamping outboard support, (Pneumatic or Hydraulic).
Compatible with most standard Servo Motors.